Well hello my lovelies.
I had myself a little procedure yesterday (no, not the type of procedure that my colleague had). I had a gastroscopy/colonoscopy. I am a little knocked around, mostly from the bowel preparation. I spent most of Sunday Evening and Monday Morning on the Loo. Could've done with one of these (this was one of the gazillion discount deal emails I get sent daily)
Though I am not really partial to golf.
Apparently, after the procedure, while I was still half out of it, the anaesthetist came to see me, and I asked him about my blood pressure and pulse during the procudure. He told me my blood pressure was fine but my pulse went down to 45. I told him that I have run a marathon. He probably thought I was bullshitting, (but I'm not). I don't remember any of this, the nurse relayed it to me after.
When I woke up properly in the recovery, I tried to be helpful - I pointed out to the nurses the lady across from me who looked a bit poorly (in pain, shivering). That is me; always looking out for others. :D I also helped the nurses by partially taking down my IV site dressing to save them some work. I am all about efficiency. Plus I was in a hurry to get out of there.
Everything was fine, you will be glad to know.
Luckily the lovely fella was on hand to look after me. He bought me some medicinal and restorative jelly snakes, picked me up from the hospital, fetched me some dinner then made an ice-cream run (medicinal and restorative icecream).
God love him.
I am back to work today - feeling still a bit tired and peaky from yesterday's adventures, but I am nothing if not tough and I have soldiered on.
On the weekend the fella and I went out with a group to
Itali.Co
which claims to have the best Pizza in Melbourne.
This is a big call. Unfortunately it is wrong. The nutella and strawberry dessert pizza deserves an honourable mention, because who could not love that, but it has been done before.
400 (Quattrocento) Gradi
and
Pizza Meine Liebe
have the best pizza in Melbourne. I Carusi deserves an honourable mention.
Today is a real getting back into it day. Tomorrow will be exciting, as Offspring is on. I have been HANGING OUT for Offspring to come back on, and to covet the couture (the correct terminology is boho-luxe). I am going around to my gf Y's place, and we will have dinner, as has been our Wednesday night tradition for the past 2 seasons.
I have a major girl-crush on the luminous Asher Keddie. Here is a painting that her fella painted of her, which won the People's Choice award in the Archibald Prize Exhibition. I love Vincent Fantauzzo, he has a beautiful, almost hyper-real painting style. It captures Asher really well, I love how her hair dances in the wind and the light jumps off her collar bones.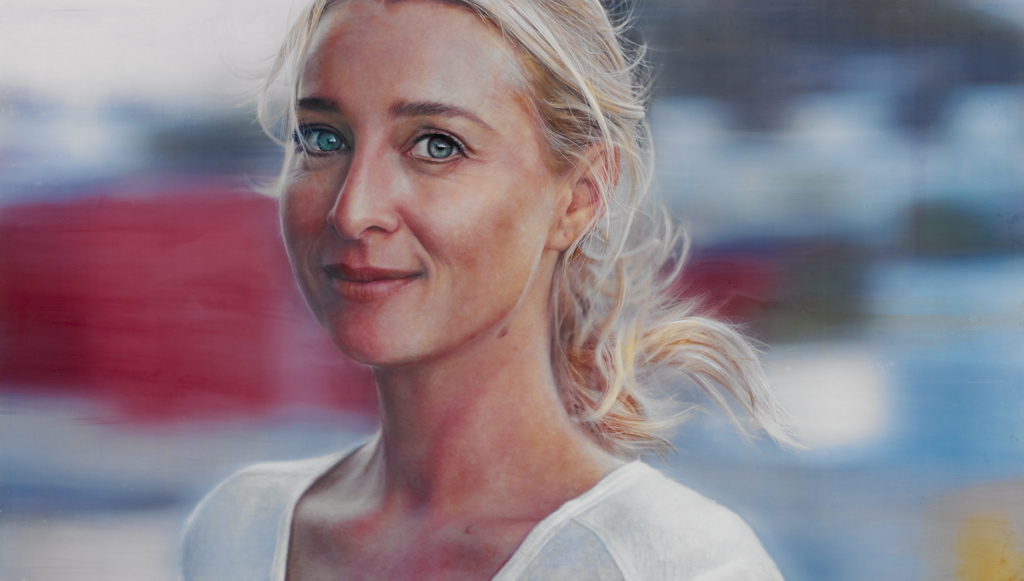 Anyway, enough drooling over Asher for the moment. I am hoping
Nikki
at Styling You will do another "So you want to dress like Nina Proudman" series.
Though I don't need any more clothes. Holiday plans are afoot, and I need the cashola. I am heading to Seoul for a conference and making a little side-trip to Hong Kong to see a friend.
More about that after.
I hope you have a good week!