I had always wanted to see live music, but never got out to do it. After le divorce, I made it one of my goals to do that. My dear friend Y (a prime target as she is single and also very agreeable) was dragged along with me. I took her to see Daniel Merriweather (very good but very drunk on stage), and also made her come to the Queenscliff Music Festival last year, where we had a ball.
The Fella is music-mad, and has a particular soft-spot for punk rock. Not American Punk, British Punk, just to clarify. He books gigs left right and centre, and I am mostly pleased to be his handbag. Many of the bands I have never even heard of. He gets me to look at their stuff on youtube to decide whether I want to go. I am quite impulsive when it comes to a lot of things, and if I like the video clip or song I will go along.
On Good Friday evening, I went and saw the Lumineers at the Corner Hotel with him. I am a new fan. These lot were a bit like Mumford and Sons, but a bit more American, down-home, thigh slappin' fun.
Last week, I went and saw the Temper Trap, at Festival Hall. I had picked this one as I quite like the temper trap. I must say, it was good. Ok. It sounded precisely like it did on the radio or on itunes, but mixed with the sound of Gen-Ys yapping loudly during the songs. There was no ad libbing, no mashing up, there were no surprises or encores. They played my favourite songs "Trembling Hands" and "Sweet Disposition" so I went home relatively happy.
So I've decided that I like the smaller venues like the Northcote Social Club or the Corner, with obscure bands - more magic happens there. I have no expectations and am often pleasantly surprised. I can bop along. I also have to have a go-to collection of flat and comfy yet stylish shoes that I can stand and bop around in.
Soooo....getting to the point. This band last night...
Some of you might remember Adrian Edmondson as Vyvyan from the Young Ones (so Google Tells me, I am a bit young for it)
He now looks like this: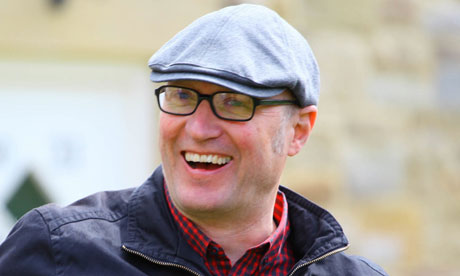 I thought he looked a bit like an older version of Moby, one who has eaten meat and drank copious amounts of Alcohol (ie had far more fun).
He is actually a comedian as well, and on stage between songs, he cracked some great funnies. Peppered with the F word. My favourite kind of funnies.
The music: Punk rock songs done in Celtic Style, a la Riverdance or The Corrs.
Punk Rock is not really my thing but my gawd I love me some Celtic Music. I am NOT ASHAMED to say that I was a fan of Riverdance music, and the Corrs. I find the fiddle and the horns and the mandolin so uplifting that I just want to do that fairy jumpy dance that the Riverdance people do. FYI I can't do that dance, try as I might.
They played some Punk Songs - Rise by Public Image Limited (Johnny Rotten et al), a song by the Talking Heads, and they played London Calling by the Clash. I love that last song, as it reminds me of my trips to that great city.
It was great fun. I loved watching the fella get into it and shake his (very cute) bottom.
The fellas on the horn (Troy Donockley) and the fiddle (Andy Dinan) were amazing, apparently some of the best folk musicians in the UK. The fiddler stood around looking a bit lost and dopey when it was not his turn to play, but he amped it up big time when it was. Amazeballs.
Ade himself plays a very mean mandolin (or as he refers to it "the thrash mandolin").
All in all, great fun - loved it.
Next gig is the Melbourne Ska Orchestra. Will post on that soon.